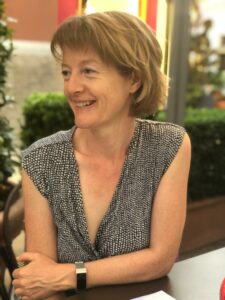 Catherine Naughton, Director of the European Disability Forum and jury member of TIE's Play for Change awards, speaks to us about her experience of judging the Play for Change Awards and about what the toy industry can do to better serve children with disabilities.
The European Disability Forum is a platform which brings together representatives organisations of persons with disabilities from across Europe. Catherine has been busy judging the entries in the Empowerment* category (but she's not ready to disclose the winners yet!).
If you go toy shopping for a child with a certain disability, what do you need to consider?
Parents buy toys for their children depending on their likes, rather than on their disability. We all look for things that captures our child's imagination. If your child has a sensory disability such as a hearing impairment you will look for toys that stimulate other senses. Partially sighted children can enjoy toys with vibrant colours. We shouldn't be too narrow in our thinking – toys don't need to be specifically made for children with disabilities.
Where do you think manufacturers should focus in terms of improving accessibility of toys?
One area where there is a need for more focus is on families and the accessibility and usability of toys and packaging- for everyone in the family. Parents with disabilities should be able to appreciate toys: for example, easy-to-read labels and operating instructions, and clear information on what exactly the box contains. Such information can be improved through better colour contrast in labels, larger print or scannable bar codes. Another area ripe for improvement is making toy packaging easier to open. This is a challenge for a lot of people and improving it demonstrates our belief that making something more usable for people with disabilities makes it more usable for everyone.
What progress have you seen to date in accessibility?
Children with disabilities are children first and foremost and don't only need learning support but the same opportunities to play as any other child. That's why it particularly pleases me to see progress in toys that have been around for a long time that target all children, being made inclusive and accessible. Cards games that feature braille is one great example. There is real potential for the normalization of accessibility in all toys.
Beyond accessibility, there's also representation of disabilities in toys themselves. Where is that at today, and what would be your hope for the future?
We rarely see children with disabilities represented in general images of children – playing or otherwise. It's important to create in the toy world what you have in reality: children from different backgrounds, different cultures and children with disabilities. When viewing promotional material submitted by the entrants for Play for Change Awards, it was wonderful to see children with disabilities featured and it's certainly something we'd like to see more of in the future.
What do you believe is the impact on children without disabilities when they play with toys that portray disabilities?
Such toys stimulate children's thinking and conversations that they wouldn't otherwise have. I see it with my own four children. To create a world of play that reflects the diversity of the real world – and shows the beauty in that diversity – is so important to lifting the barriers that are in our minds.
How important are initiatives such as TIE's Play for Change Awards for changing perspectives?
Competition is a great way of stimulating innovation. With today's focus on diversity, winning an award such as "Play for Change" can really make an impact. For example, award winners are more likely to appear on lists of toys that are more diverse or more empowering, and so the toys get more publicity and sell better. The kind of recognition that comes from winning an award is a real motivator for the industry to make changes.
How is your experience as a jury member for the Play for Change Awards?
It is my pleasure. I was happy to be asked to show the world of toys through the angle of people with disabilities. Also, it was a real achievement for TIE to be able to organize the Awards during the difficult lockdown period. We'd love to be asked again in the future!
EDF's philosophy is "nothing about us without us". How should the toy industry reflect this?
I would encourage the toy industry to more broadly engage with children with disabilities, with parents' groups, and with the disability community. They could test their toys with diverse groups of children – exploring what their needs are and talking through what works and what doesn't. When looking at the Play for Change award entries, I considered how the toys were developed and with whom. You could see where people with disabilities were represented in the development process of a toy. Perhaps in future editions of the Play for Change awards, children with disabilities could be involved in the judging process?
* The Play for Change Empowerment award recognises activities and toys that break boundaries based on outdated 'norms' of social status, ability, sex, race or religion.